"JESUS" is a remarkable film, full of drama. The attention to biblical accuracy catapults you back into the life and time of Jesus Christ. You walk the same historical streets, you experience the same wonderful miracles, and you are touched by the power of God as you relive the most important events in the history of mankind.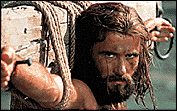 "JESUS" is more than a story. Virtually every word spoken by Christ comes from the biblical text of the Gospel of Luke. This two-hour film epic will personally challenge you.
JESUS Fim Project is an undertaking of the Campus Crusade for Christ. JESUS Film in various Indian languages can be viewed in RealVideo by clicking on the appropriate language in the following table. Click here to view JESUS film in various other languages of the world.

In order to view the "JESUS" film you will need to download the RealPlayer available from Progressive Networks.
JESUS film in English